Long hairstyles for men have become more popular and acceptable. Time has proved that long hairstyles for men are trendy. How you style long hair largely depends on your personal preference or lifestyle. You can make wavy layers, leave it plain straight, or twist it into curls... But don't forget that long hair comes with commitments as well, such as ensuring the hair is in good condition. However, men with long hair also have the luxury of not needing to style their hair every day.
Slick Back
This is a popular men's long hairstyle. This hairstyle fits men with medium to long locks. It works well with a tailored suit as well as with streetwear. It can be achieved by raking fingers through the hair using gel. Guys with curly or textured hair can also rock this look by sweeping the front section of hair back. Lastly, curls can be left mostly intact or broken up slightly for a more worn-in feel.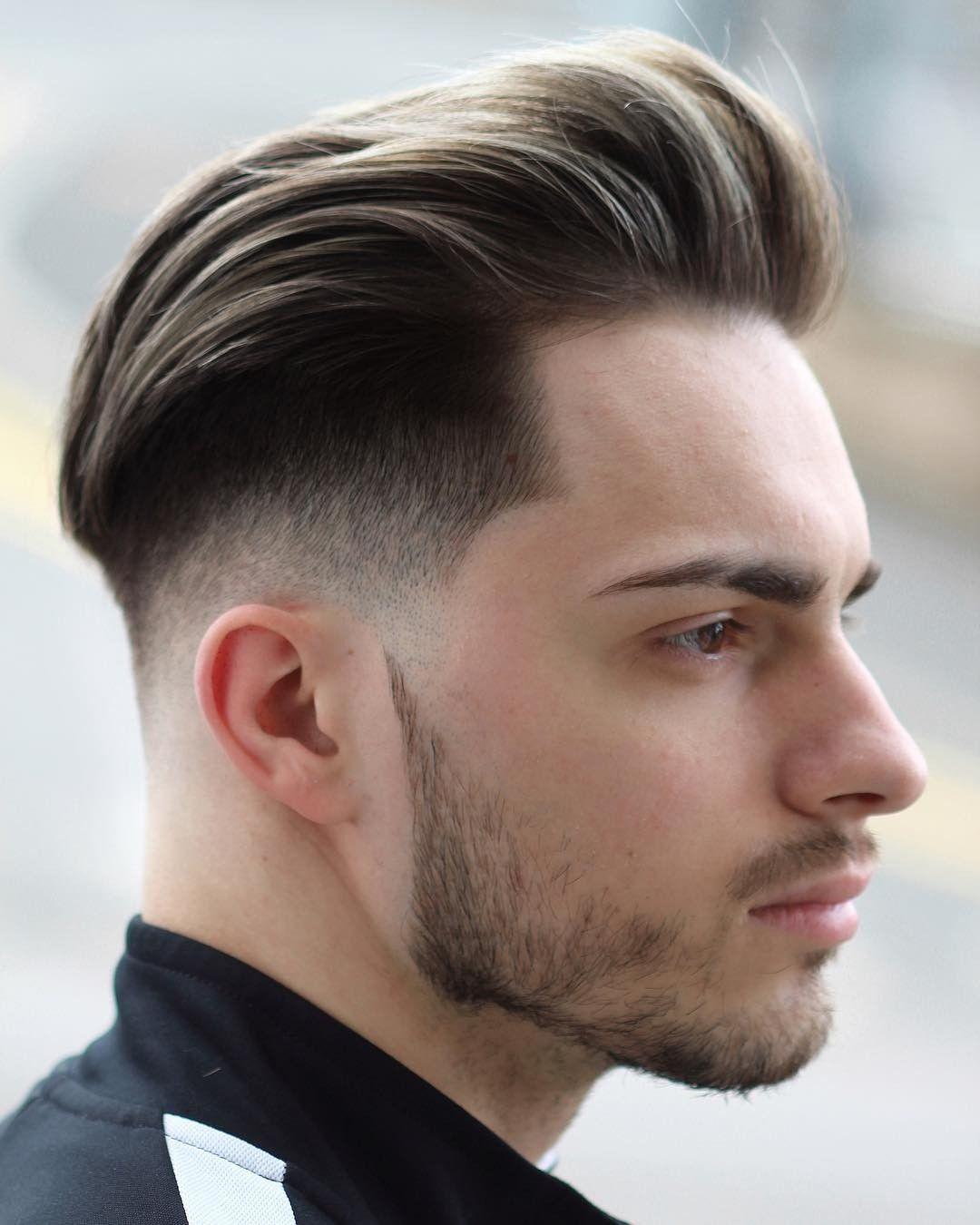 Elegant Side Part
This is the most common hairstyle for men. It normally looks great and requires a little amount of product and effort. All you have to do is sweep the larger section of hair to one side and train it to stay in place by tucking it behind your ear. To create extra hold, use a dry texturizing spray on the roots and define the part near the face with a loose hold wax.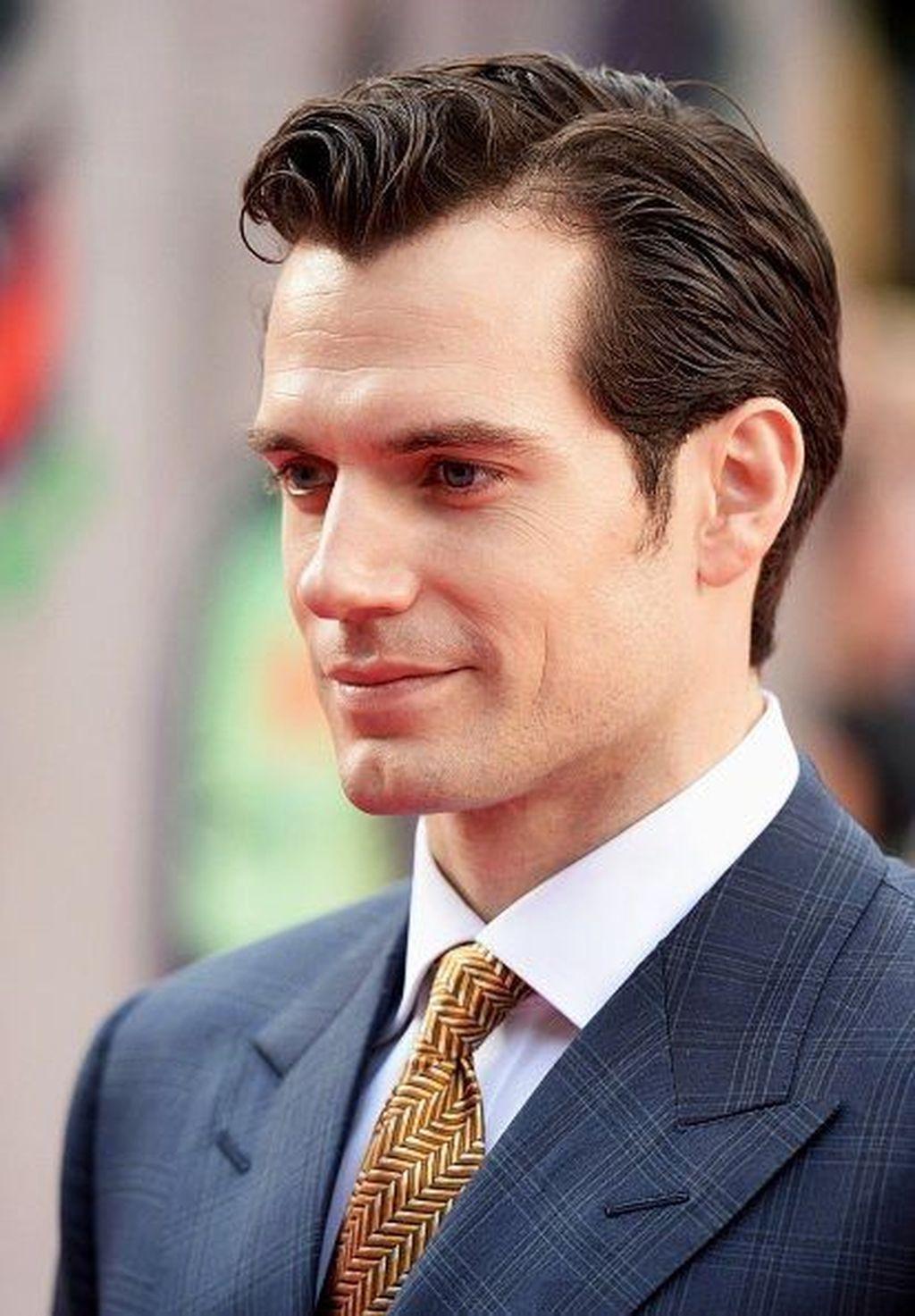 Man Bun
This is one incredible men's long hairstyle on trend today. It is versatile and easy to wear for guys with long hair. Buns are flattering and can be altered according to face shape. All you have to do is comb the hair back with your fingers and secure it with a tie. The length of your hair will determine how high or low you can wear your bun, but a looser bun is more flattering. You can also choose a tight and sleek bun. A man bun has the advantage of making you look trendy while effectively keeping your hair back and out of your face. Lastly, this is an idea for anyone wanting a longer hairstyle that works on every occasion.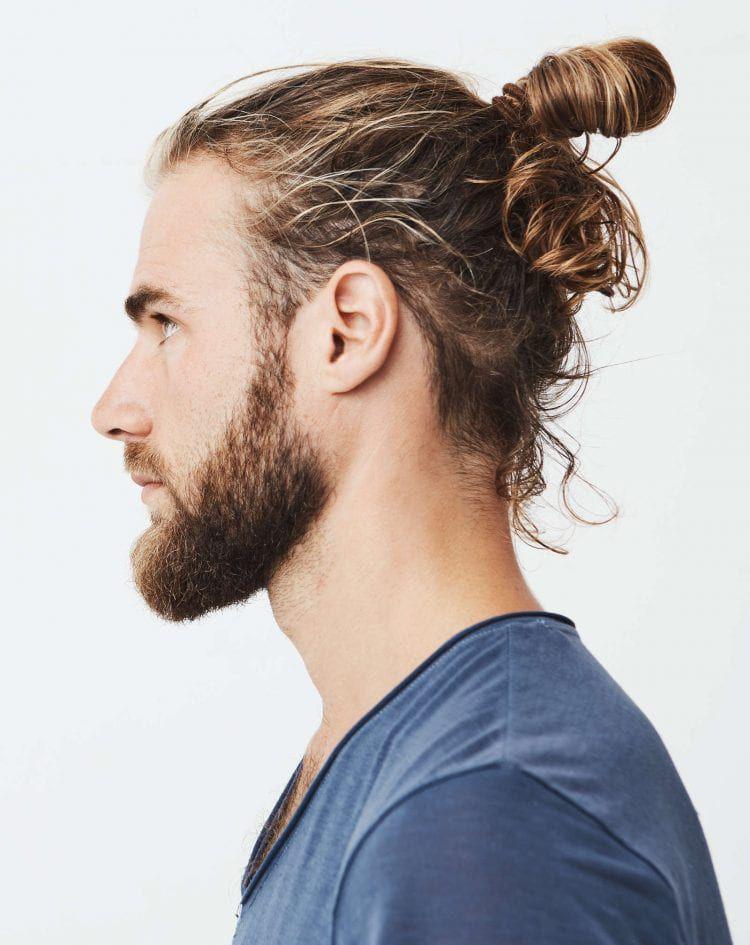 Ponytail
A pony is an easy and quick way to style long hair. All you need to do is pull your hair back and secure your look with a hair tie. You can pull your hair directly back for a better appeal. A messy ponytail gives you a natural and casual look. It is easy to make, and it saves loads of time since your long hair is kept back and out of your way. A man ponytail will help you on those days when your hair is difficult to deal with. It can also be worn for any professional event. Applying a product to the texture of the hair before tying it back will make sure that your ponytail looks voluminous and exciting.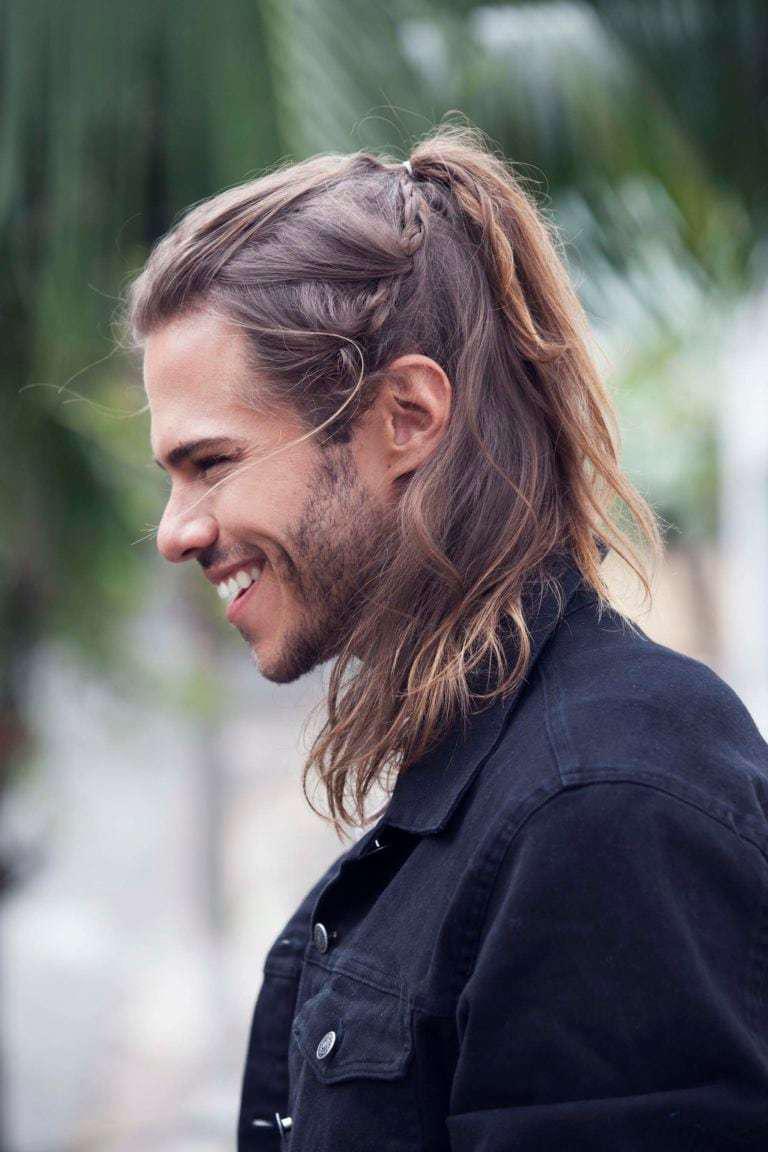 Long Braids
This is the most suitable men's long hairstyle for those who would not mind a bold look. Braids are uniquely stylish, versatile, and can suit a range of styles. For a subtle braided look, try wearing your hair in one long and loose plait at the back of your head. You can also create many tight braids, starting at your scalp and working through your long mane. You can also combine your braided look with a man bun or ponytail for a double dose of style.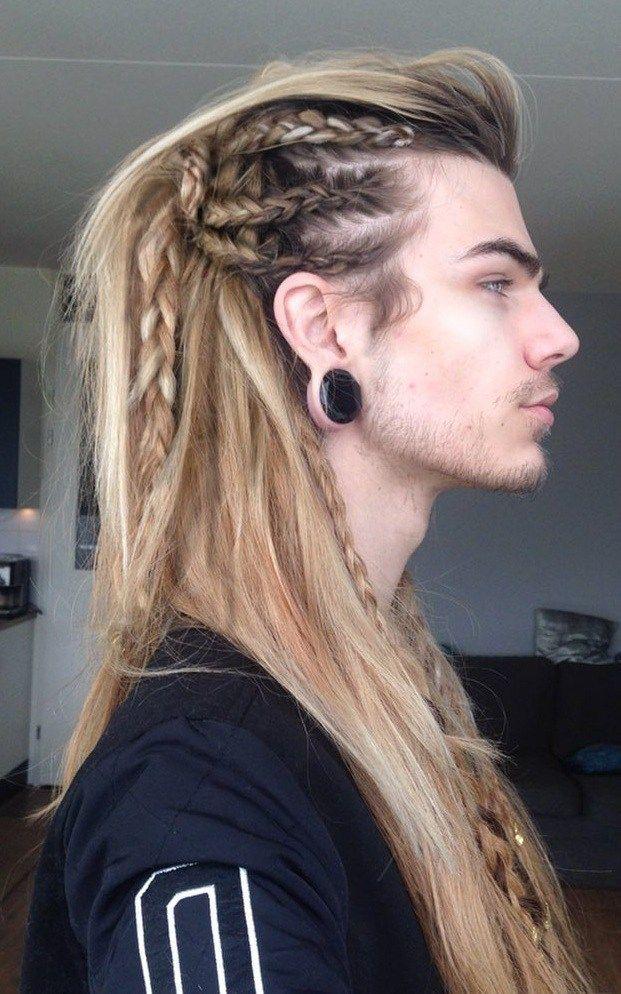 Dreadlocks
This hairstyle is a little out of the ordinary. Dreadlocks can appear on-trend and uniquely stylish. Among all men's long hairstyles, dreadlocks need the most commitment since maintaining them takes a lot of effort. Whether you braid or twist your hair, dreadlocks can appear simultaneously untrained and uniquely stylish. They make a fashionable choice that can instantly upgrade the look of your long locks.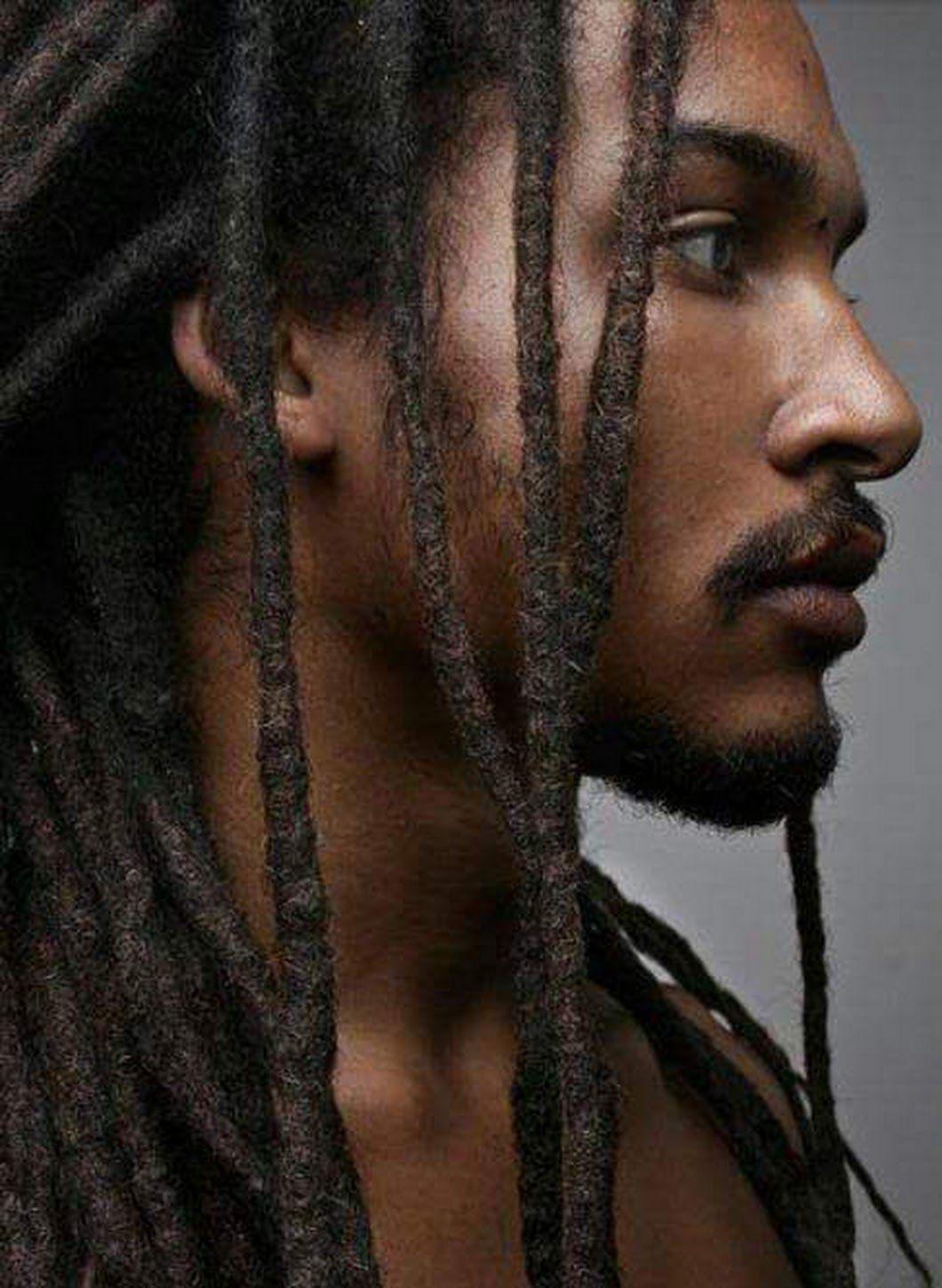 Long Blonde Hair
Long blonde hair appears particularly striking. Blonde hair typically looks radiant and impressive when worn long. It seems more masculine and impressive. Pairing it with a beard is a plus. If you prefer a surfer style, consider opting for long blonde waves that fall just past your shoulder and avoid too much facial hair.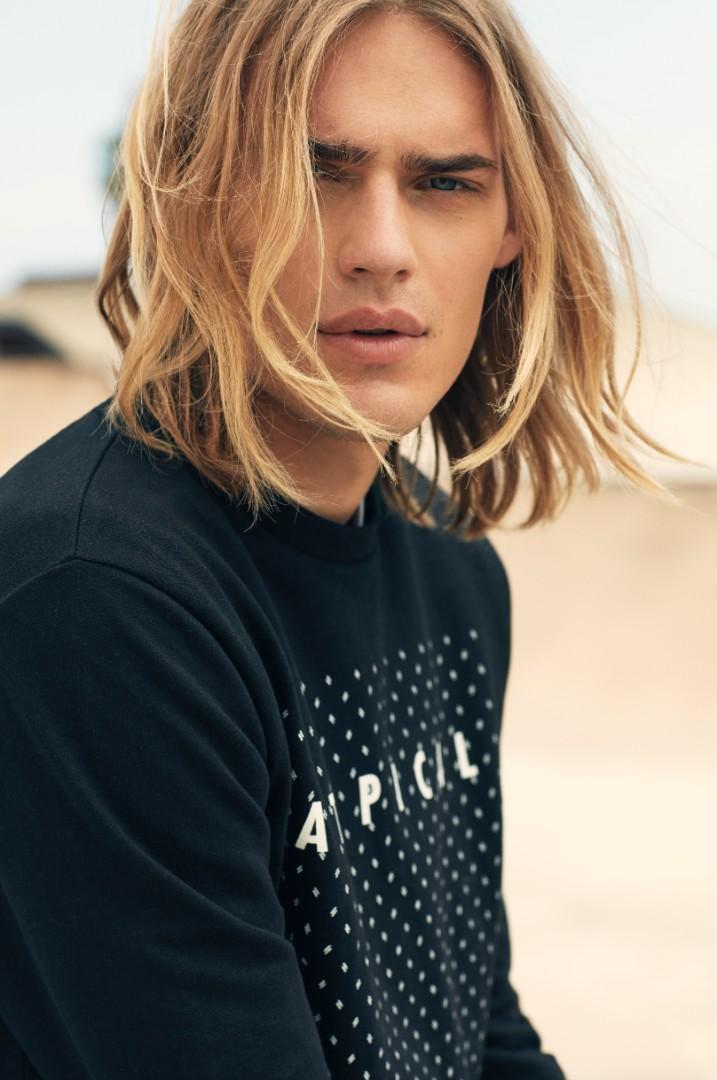 Long Curls
Long curls can be an excellent look for those who have naturally curly hair. It has a natural texture and volume, and the longer length will help to weigh down the curls. You should, however, condition your hair regularly to make your hair more cohesive and manageable. You should also let your hair dry naturally for perfect curls, as blow-drying can cause damage. You can wear your curls swept back or leave them apart. Remember, gel or wax can keep your curls in place.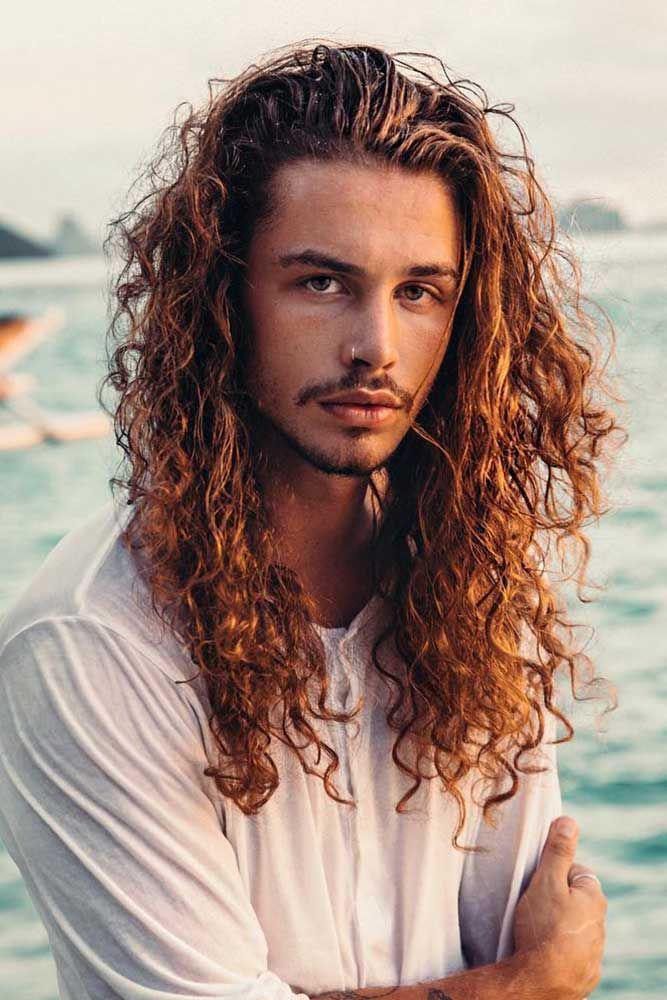 Long Hair for Asian Men
This hairstyle is common for Asian men and looks incredibly stylish. Asian hair is usually thick, strong, and fast-growing, which provides an excellent base for an extended length. Lastly, Asian men also have straight strands, which gives them a perfect look.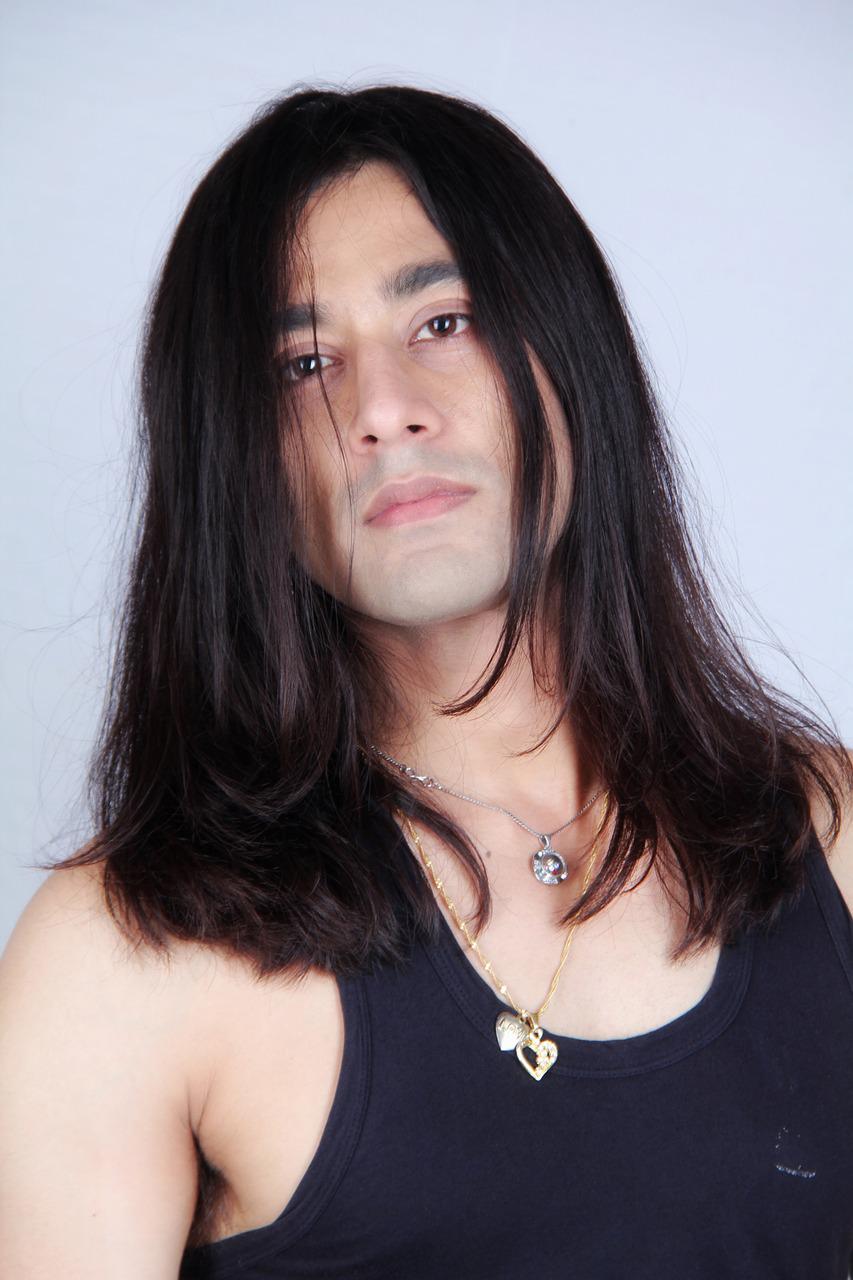 Top Knot
Men's top knot is usually styled with faded, undercut, or shaved sides. The short hair on the sides makes the long hair on top stand out. The top knot is usually tied on the top. This hairstyle is also referred to as the samurai hairstyle. However, different styles can be achieved by loosening the updo or even adding some braids to create a unique twist.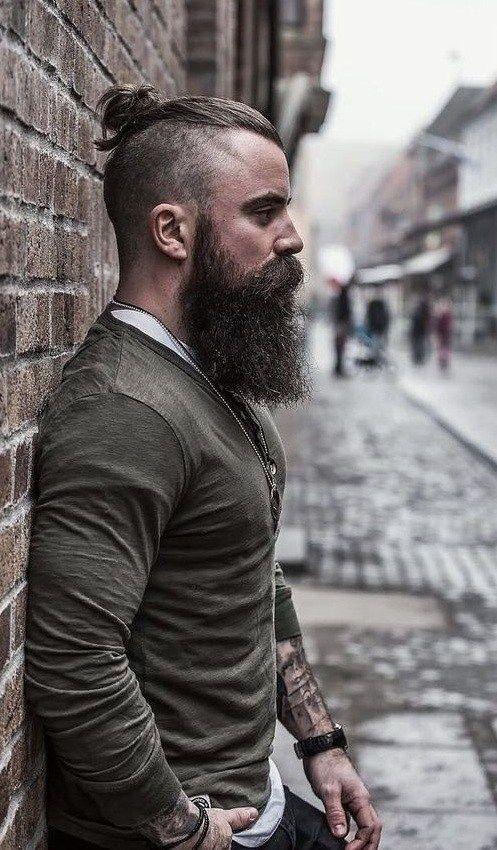 Shoulder Length
This is a perfect hairstyle for guys with medium to long hair. It does not need the hassle of constantly styling. It requires low maintenance, and it's easy to manage. The advantage of this hairstyle is that it allows you to try out styles such as the man bun while keeping your everyday look. This hairstyle also brings out the natural texture in your hair.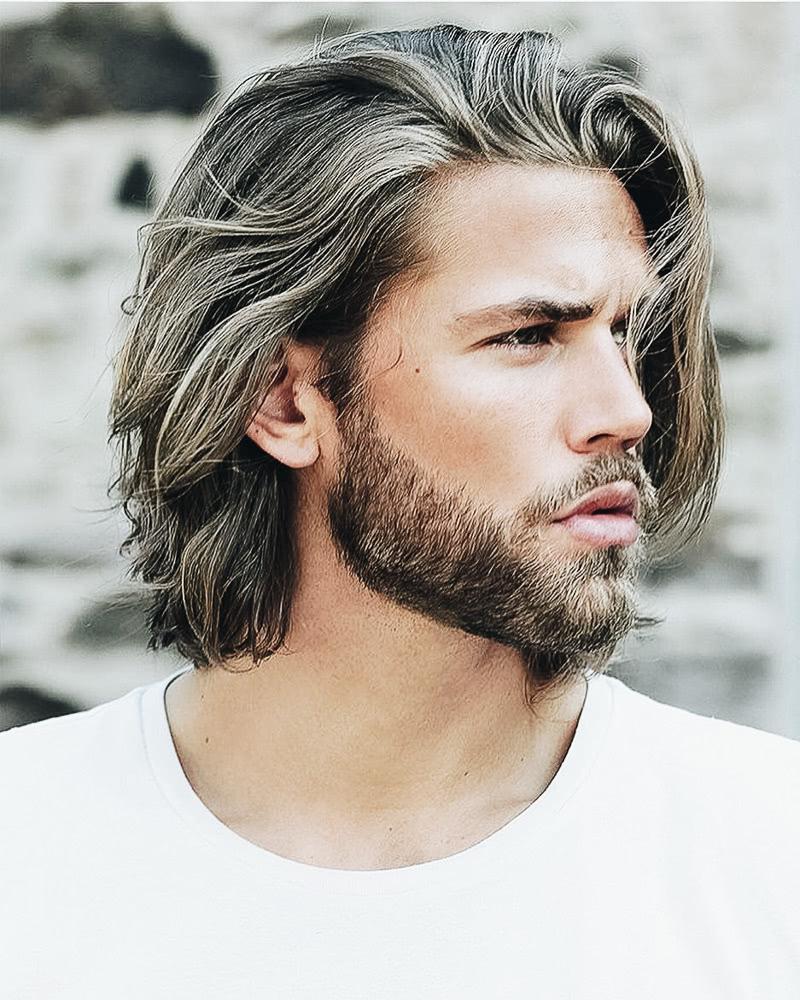 Casual Long Hairstyle
This hairstyle is one of the coolest and most natural ways to wear long hair for men. It is also easy to style. All you need to do is use a soft product that suits your hair type. It is also simple since you can style your hair with your fingers.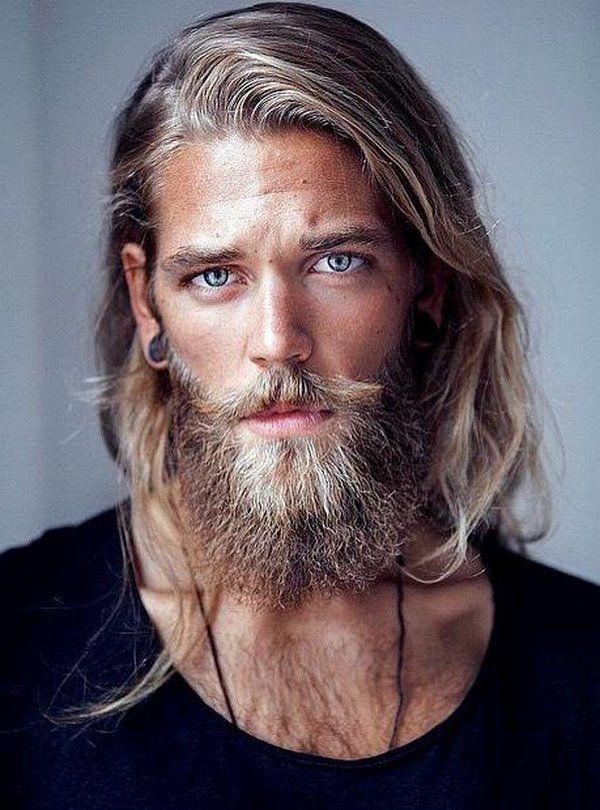 Long and Straight
This men's long hairstyle looks daring and eye-catching. This style shows off all your lengths without distraction. It is essential to maintain your cut and keep your ends neatly trimmed as well as ensure that your hair is healthy. You can blow-dry your hair using a heat protectant spray and a round brush before applying a serum to tame any frizz or flyaways.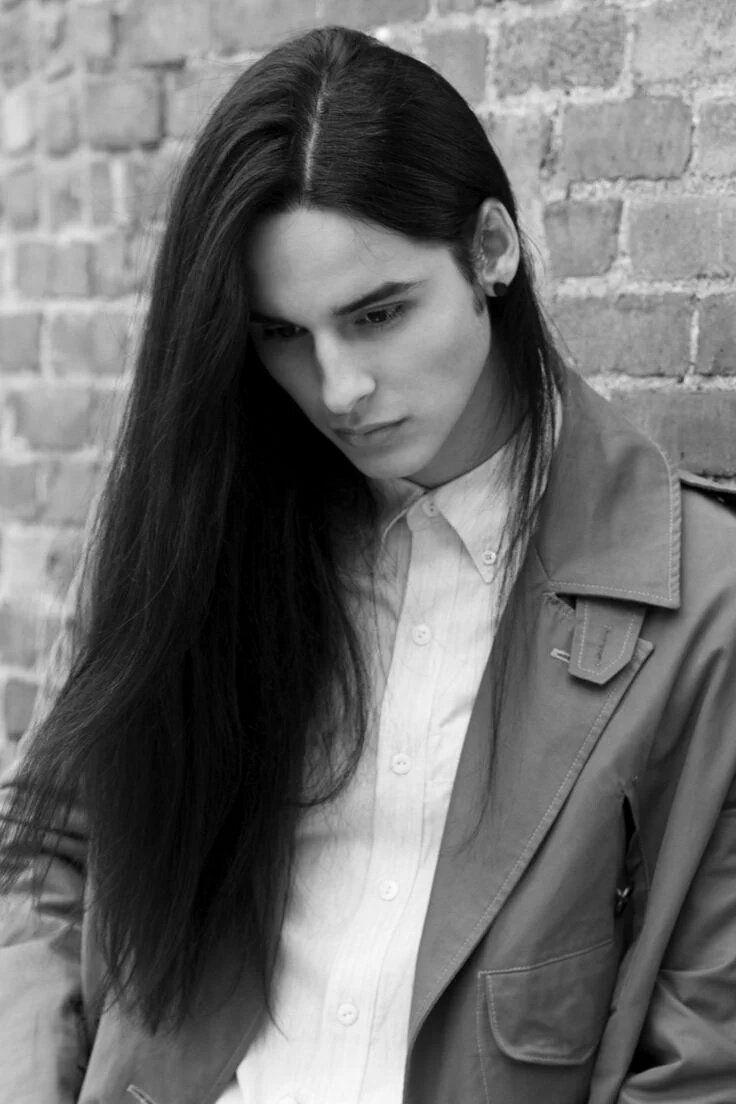 Long Hairstyle With Beard
When long hair is paired with a beard, it appears more classy. Just make sure you pick the right length and style to suit the look you are aiming for. This hairstyle includes long waves paired with a big bushy beard and a smooth mane partnered with some subtle stubble.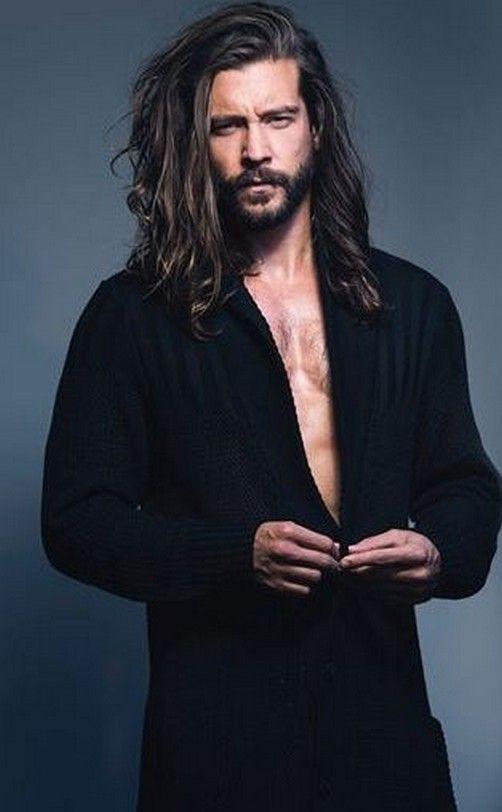 Long Grey Hair
A long hairstyle can suit men of any age. Long locks can look stylish on older gents. It provides a youthful and rugged appearance. All you need to do is let your grey hair grow long. An excellent wardrobe filled with smart laid-back pieces will help you maintain a greater look.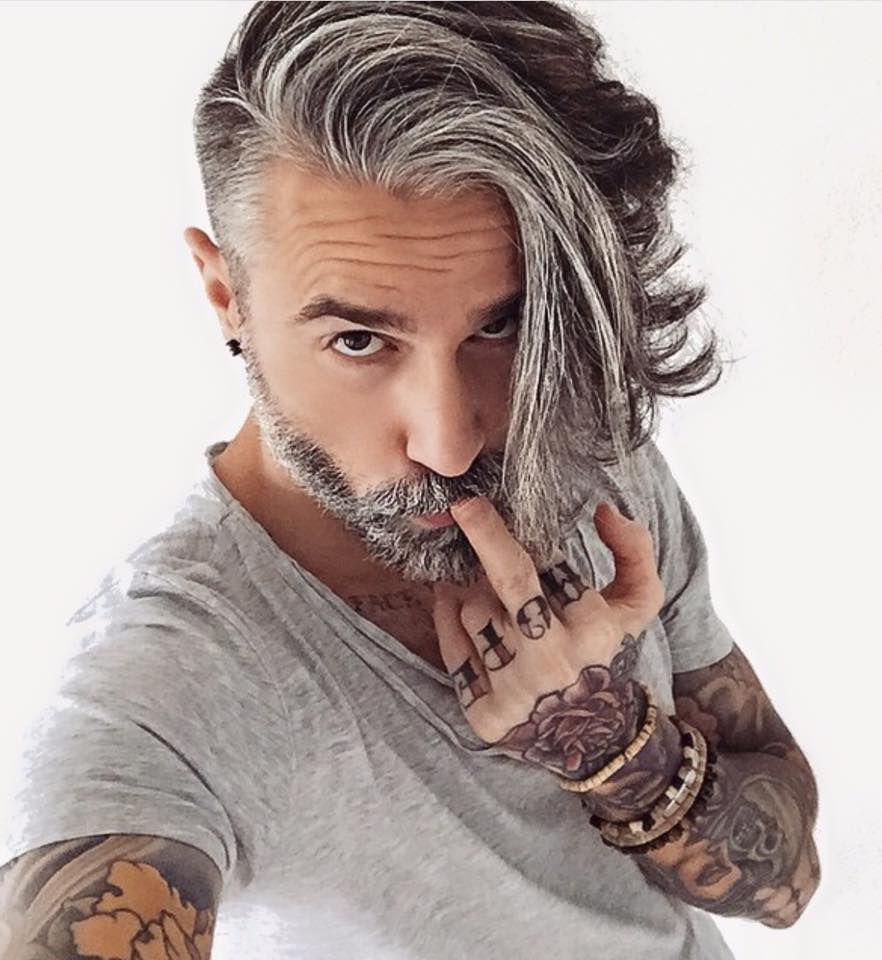 Conclusion
Men's long hairstyles come in a wide range of styles. However, if you choose one of these styles, you have to make it right for a greater look. You should also choose the right hairstyle for you.