The swimsuit season has begun and the trends are already set. This year highlights both one-piece and two-piece swimsuits that come in all sorts of colors and prints. Neon colors, as well as classic and metallic shades are very fashionable right now. As for prints, we are talking animal prints and floral prints. Geometrical patterns haven't gone out of fashion just yet either, especially if they are combined with the retro style.
Speaking of the retro style, we are pleased to announce that it is back. Full-coverage bottoms are here to make us remember that round is also a shape and that Marilyn Monroe looked amazing in them. Even so, this doesn't mean that high-cut bottoms aren't fashionable anymore. On the contrary, we have listed a few gorgeous examples that show more than we may like to share.
Strapless designs, one-shoulder swimsuits, deep cleavages and high-cuts, among others, are the highlights of this season. No fewer than 15 different best swimsuits styles were carefully picked to define this year's fashion trends as it follows.
The lack of symmetry is a major trend in beachwear this year, which encompasses both one-piece and two-piece swimsuits. The Cult Gaia One-Shoulder Cutout Swimsuit is made of an army-green stretch fabric and provides medium coverage. There is also a color-block version available that looks best on already tanned skin due to its warm colors. The available sizes range from extra small to large. Due to its high-cut legs, it has a lengthening effect on the body.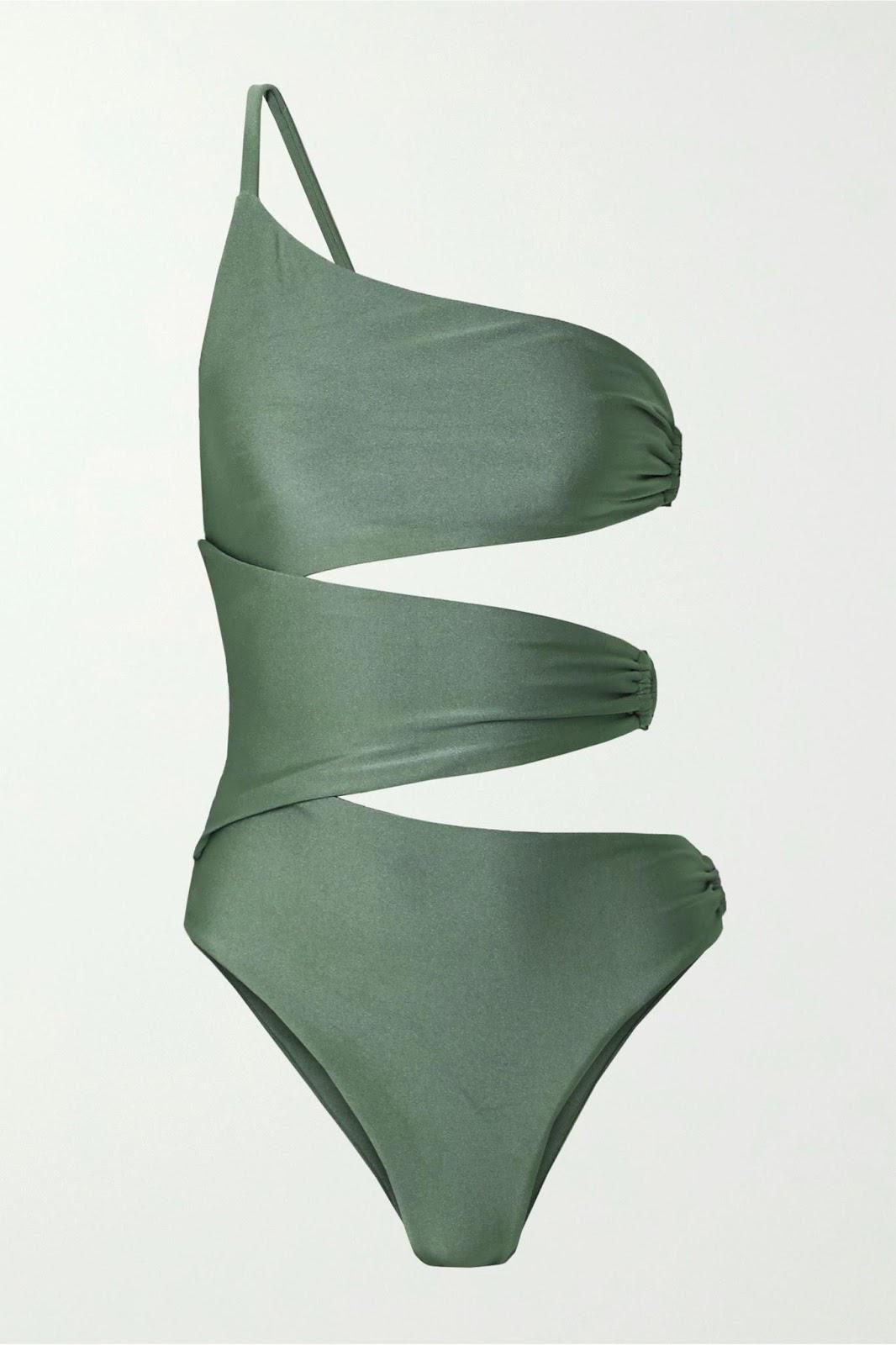 A two-piece asymmetrical swimsuit, the Ellejay Hayden One-Shoulder Top and Bottom comes in a sleek shade of black, paired with golden tortoise rings. Made of nylon/spandex materials, it is available in 4 sizes. The bottom is characterized by a high waist, which can easily hide any imperfections in the belly area.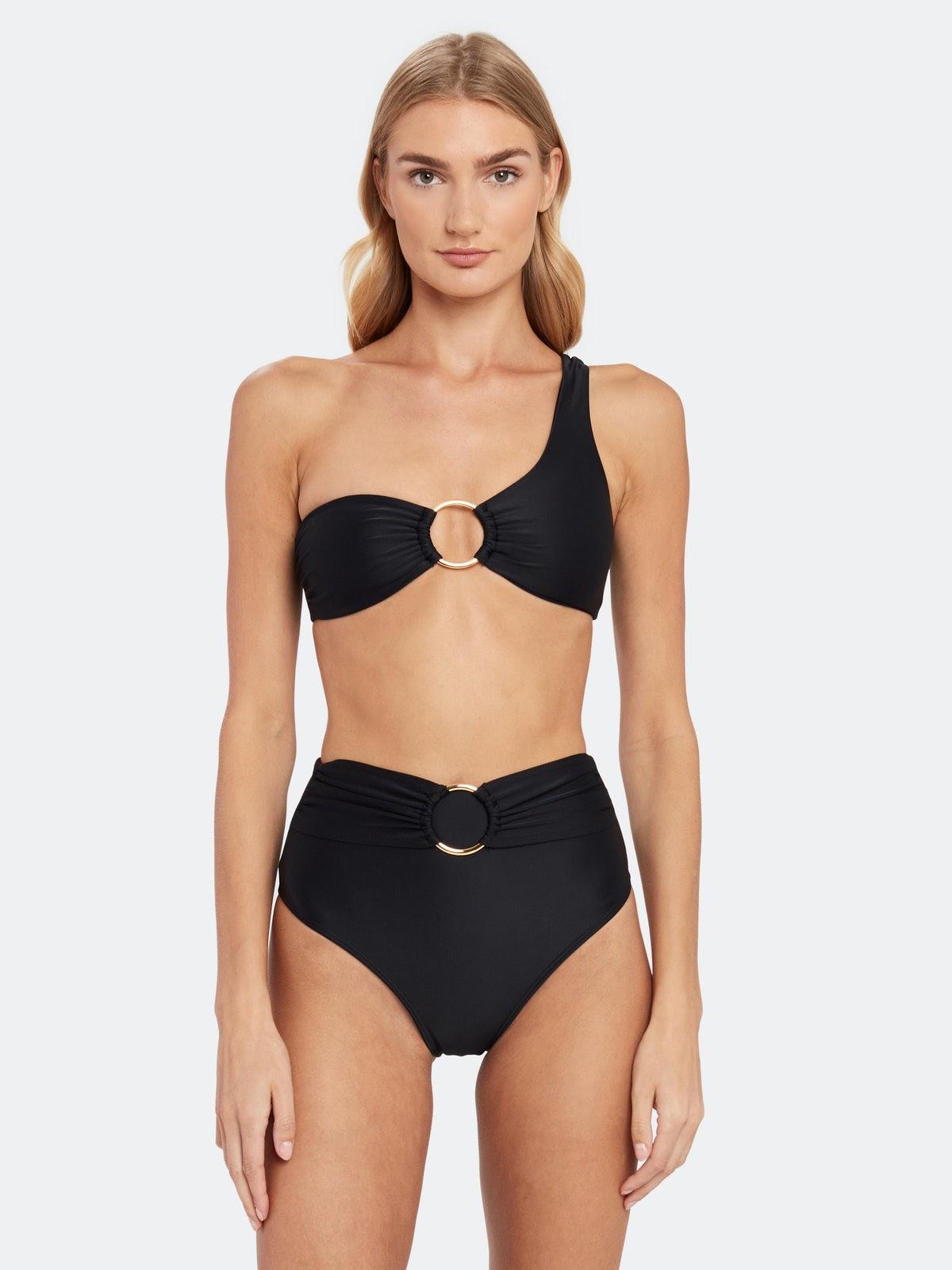 Wildlife patterns are back in beachwear this year. Zebra, tiger, and leopard prints have left their mark on the collections of many famous brands. Mara Hoffman's snake-print one-piece swimsuit is quite revealing. It comes with a deep cleavage and a high-cut style that doesn't provide much coverage. Luckily, it is available from sizes XS to XL, a fact which makes it perfect for those of us with a long torso. Probably its best feature, besides the design itself, is that it offers UPF 50+ protection.
One of the best swimsuits that come in two pieces and feature a very appealing tiger print are signed Faithfull the Brand. The bohemian aesthetic of this swimsuit provides medium coverage and the top comes with straps and underwire. This eye-catching beachwear comes in almost all sizes, ranging from XS to L.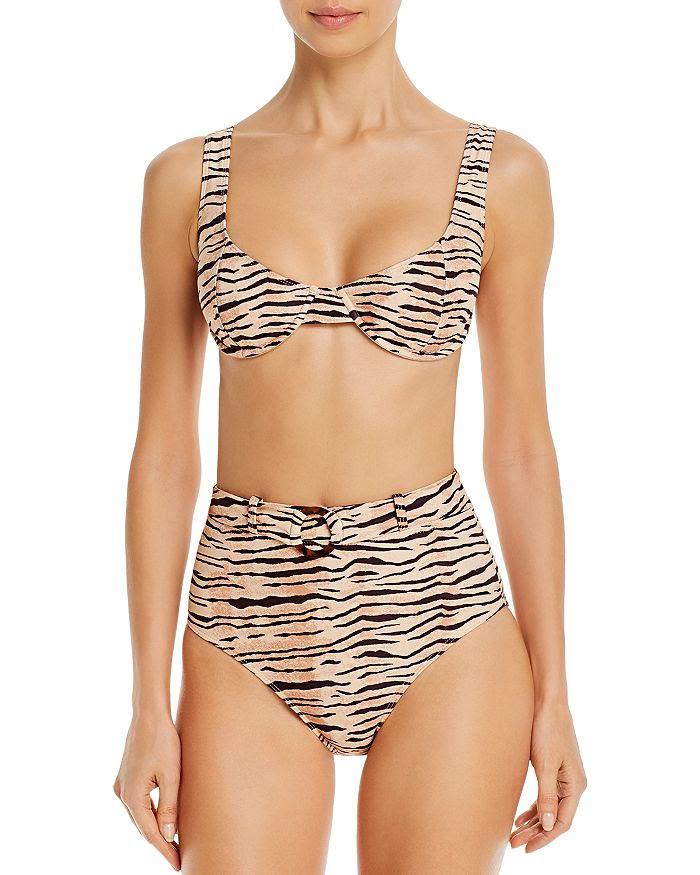 The best swimsuits are those with timeless designs and, since not long ago, those made of recycled materials. This exquisite mocha swimsuit comes with two sexy thin straps that are visible only in the back. As for the front, it looks like a sleek, one-shoulder beachwear. Moreover, it features shape-retention technology, which will help us look amazing in this minimalistic design. Available sizes are S and L.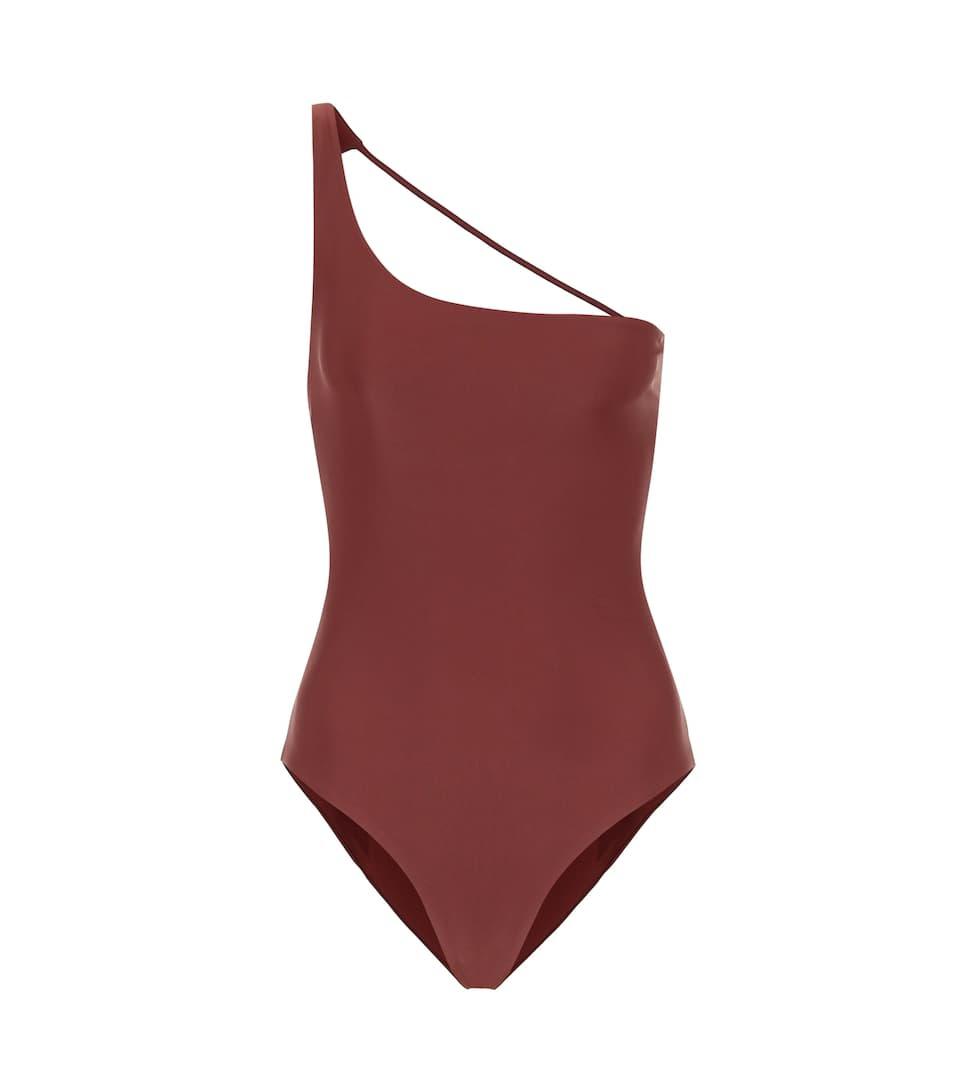 Floral motifs consistently appear in brand collections every summer. This season, chamomile, lilies, violets, and roses have adorned the swimwear from Tory Burch, Dolce & Gabbana, and other brands, such as Ganni. This one-piece floral swimsuit is also made of recycled materials, like the one from Jade. It comes in 4 sizes and it provides medium coverage.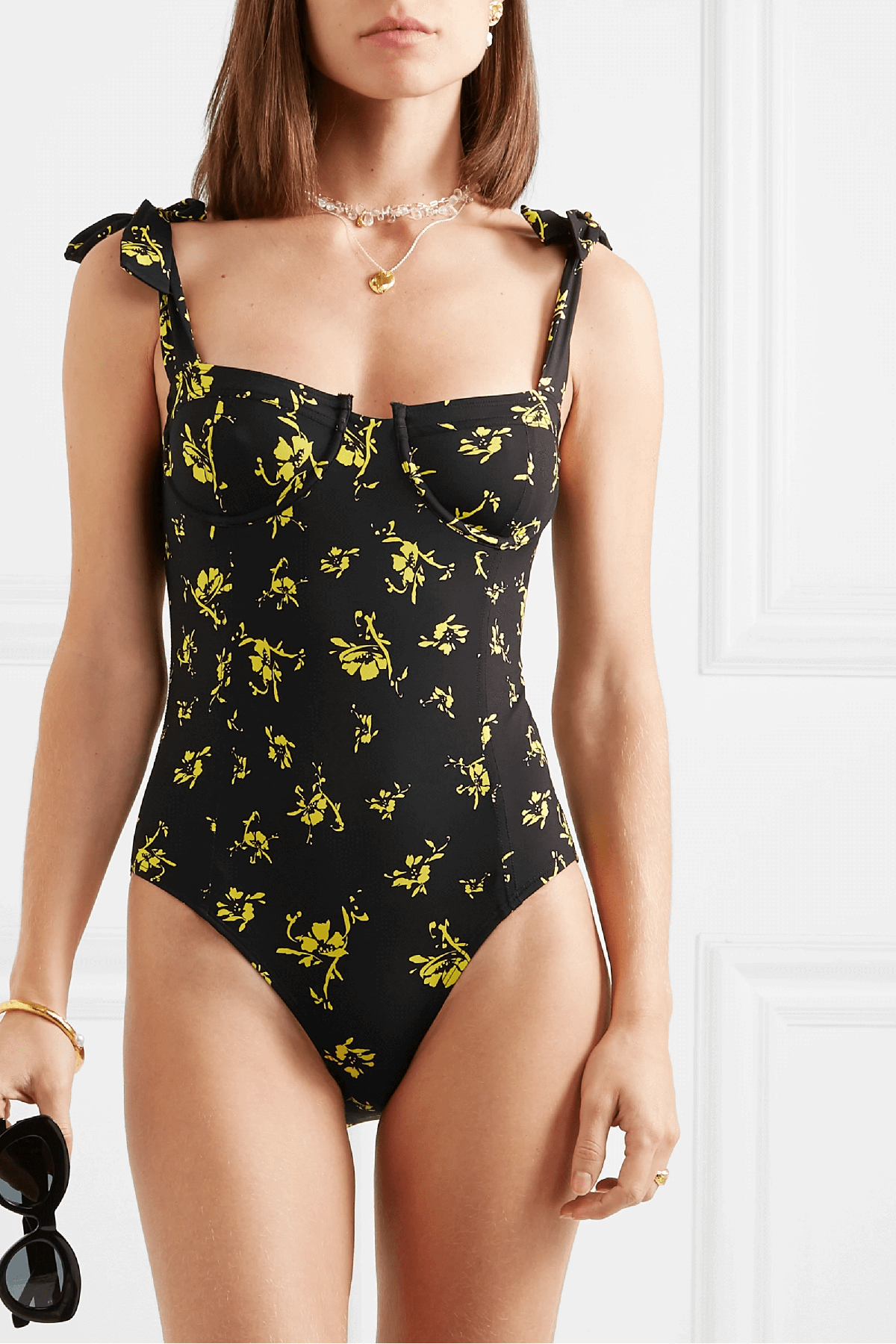 An active woman's swimwear, this one-piece swimsuit is highly fashionable this year due to its smocked texture. The material used to make this beachwear is crinkled and stretchy. As for colors, it comes in a multi-colored version called Legacy Paisley. The cleavage is deep and the back coverage is medium. We love the slim tie at the waist and the fact that we can find the perfect fit by trying on sizes that range from extra small to extra large.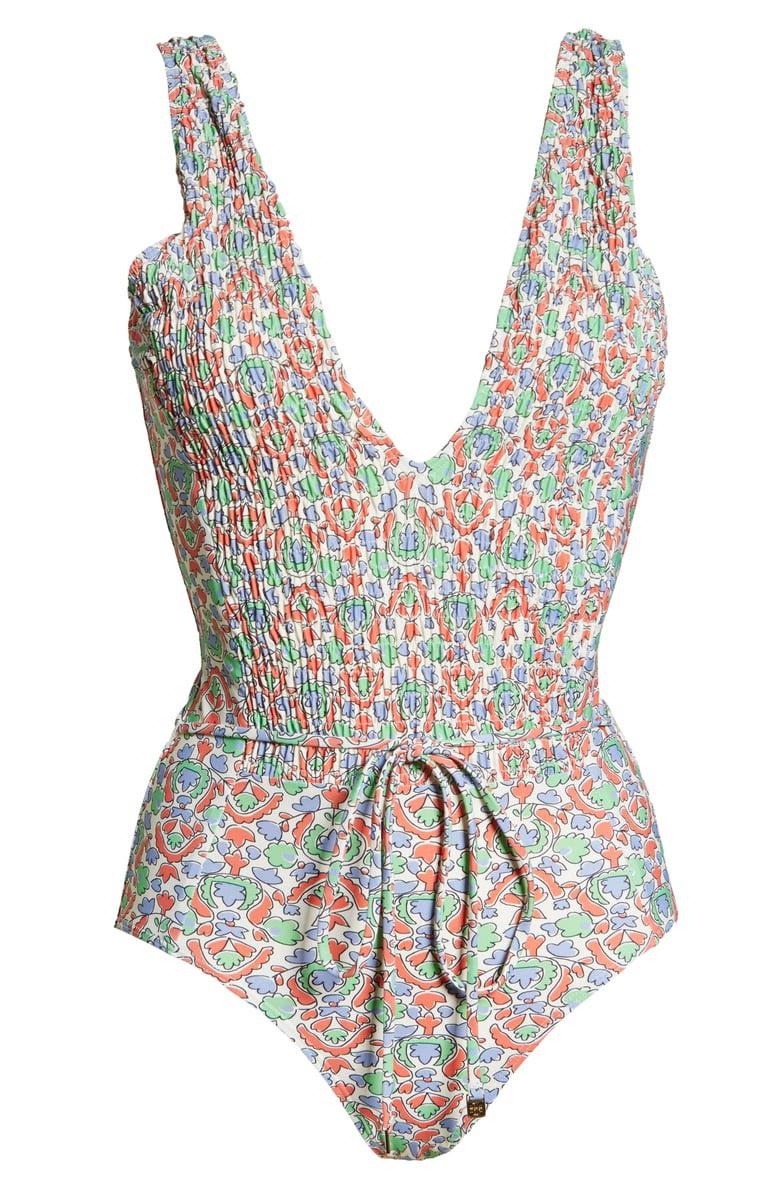 Bandeau swimsuits remain popular this season as well. Such designs do not have straps, a fact that allows us to achieve an even tan. In addition, paired with the snake print and crinkled texture, this two-piece swimsuit is more than trendy. The top features a tortoise ring and an adjustable tie-up closure in back. As for the bottom, it is characterized by an '80s design with a high-waist and medium coverage in the back. The only available sizes are S, M and L.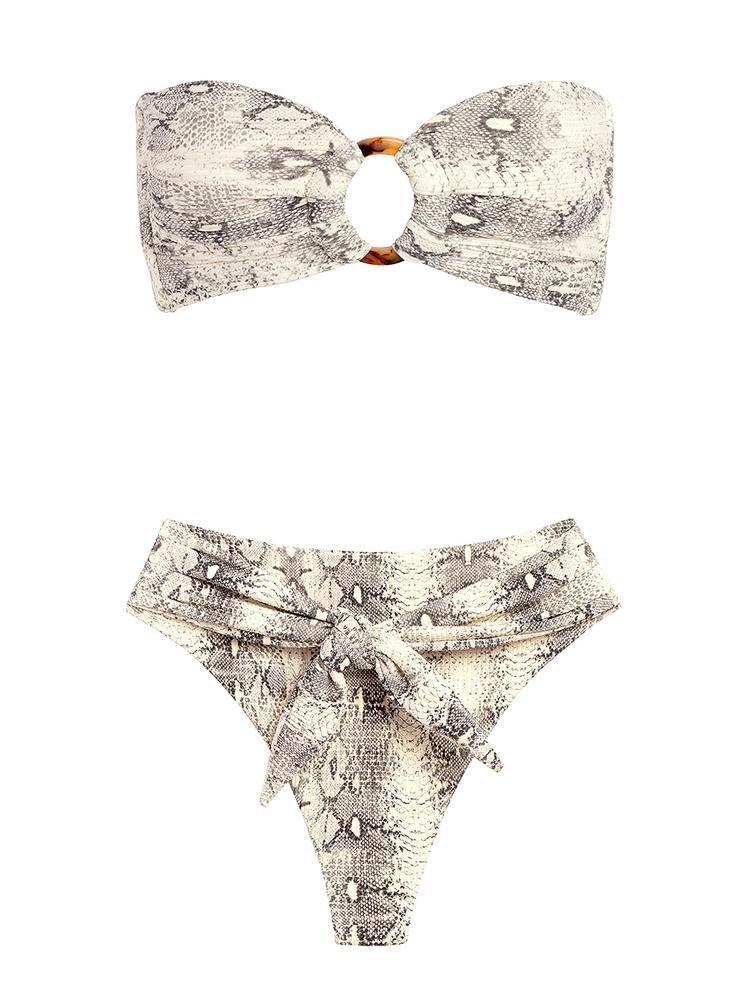 The diversity of floral prints doesn't cease to amaze us. This bikini features a joyful and feminine combination of colors and the best thing about it is that it is made of sustainable nylon that comes from discarded fishing nets. Its overall design fits in the retro category, but it doesn't match 100% due to the fact that it is quite revealing. An adjustable two-piece swimsuit, it comes in 4 sizes and 3 combinations of colors.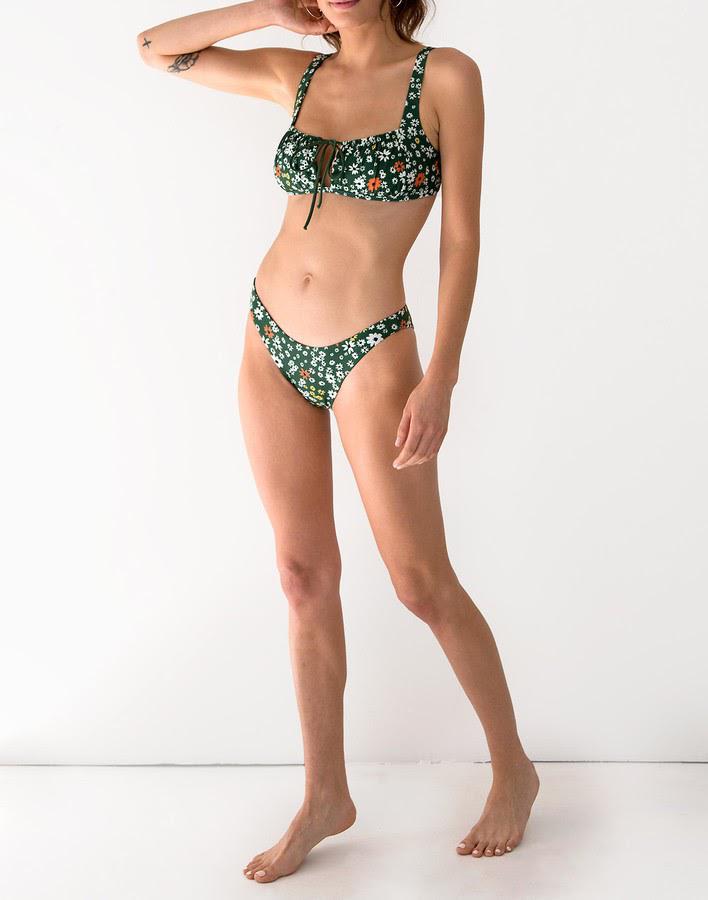 Weaves, strings, and overlaps in any form and quantity have not gone out of trend for several summers in a row. ACK's tie-dye swimsuit was designed with this trend in mind. Moreover, the concept behind its coloring is based on the look of ice cream scoops. Yellow, orange, green, blue, and purple are all combined in this multi-colored swimwear. We love how it can be matched with various types of beach bags. Available from sizes XS to XL, this piece provides minimum coverage.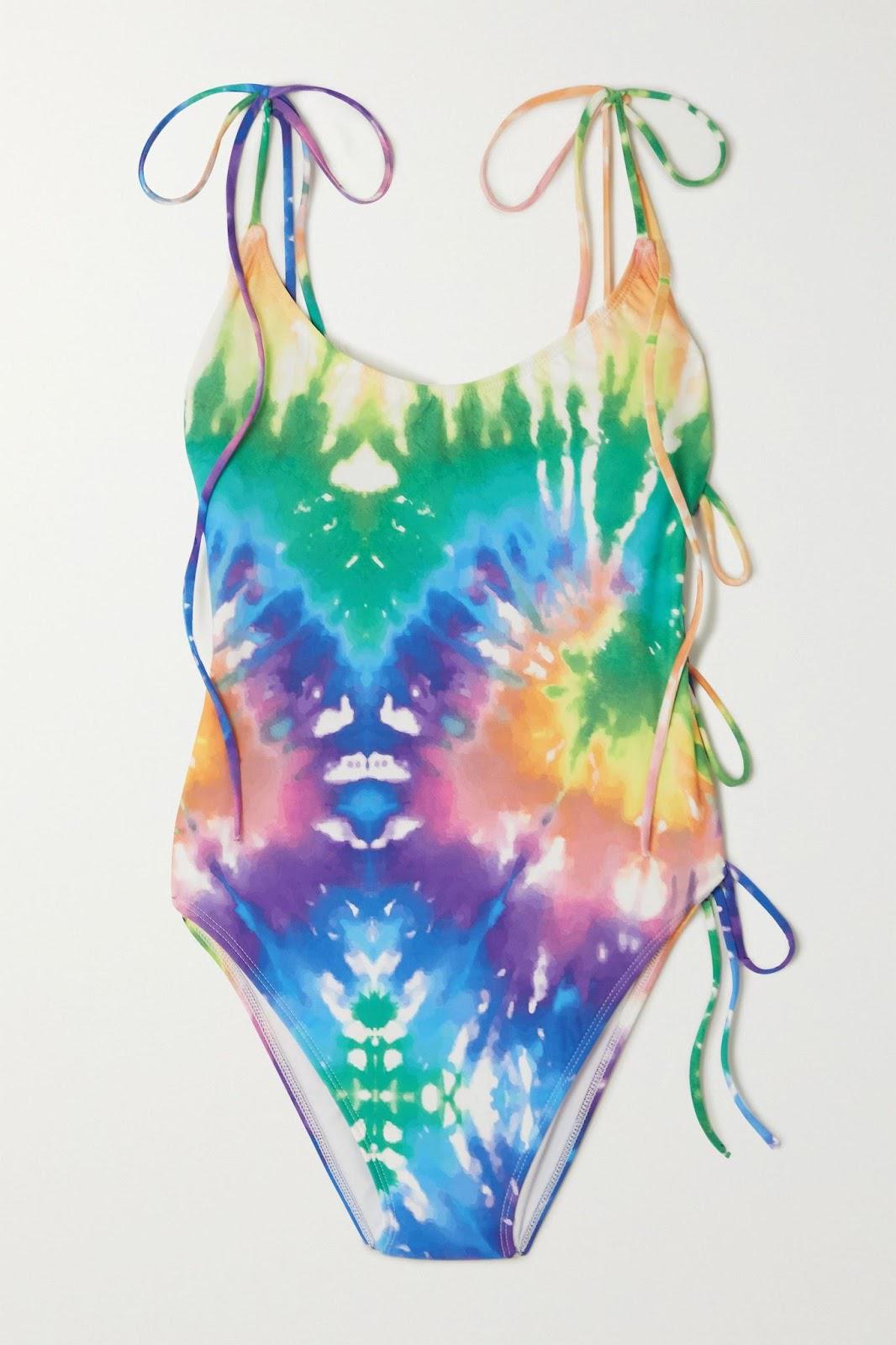 Oseree's Voila swimsuit looks so fancy that we could mistake it for an outfit meant to be worn on a special occasion. However, we don't need special occasions to wear a one-piece swimsuit that shimmers in the sun. The gold-tone metallic stretch-lamé fabric is simply gorgeous and complements sun-kissed skin like no other. Available in sizes that range from small to large, it highlights the shoulders due to its thin straps. Moreover, it features a high-leg cut which has the advantage of minimizing tan lines. The flattering peplum hem makes the Voila swimsuit more accessible to all silhouettes.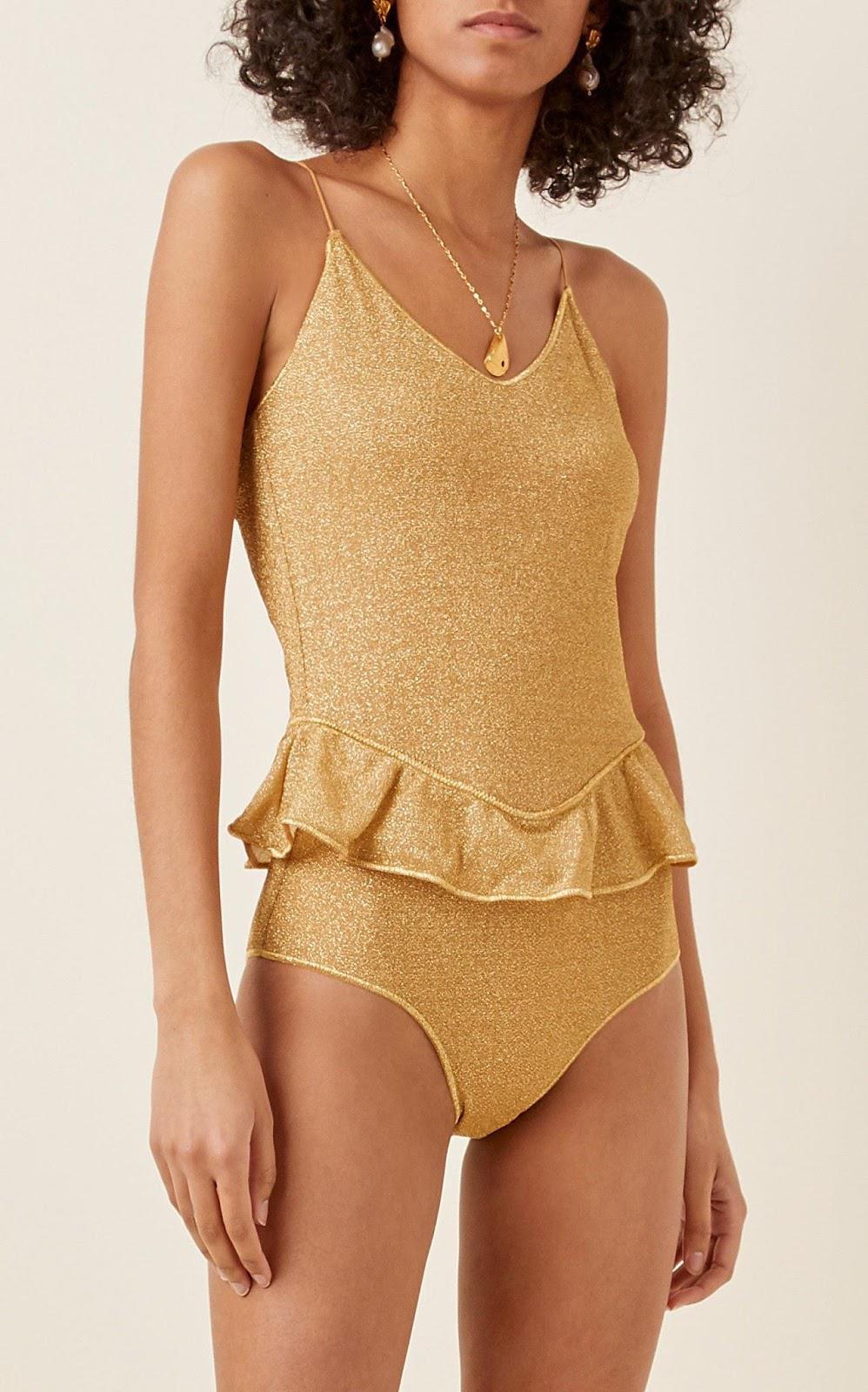 A belted bandeau swimsuit, Alexandra Miro's creation is highly feminine and practical. Mostly white, it comes with a beautifully embellished belt that features floral motifs. The belt is detachable, but we strongly recommend wearing it since it's a fashionable accessory for multiple one-piece swimsuits this year. The sad news is that it only comes in sizes that range from extra small to medium.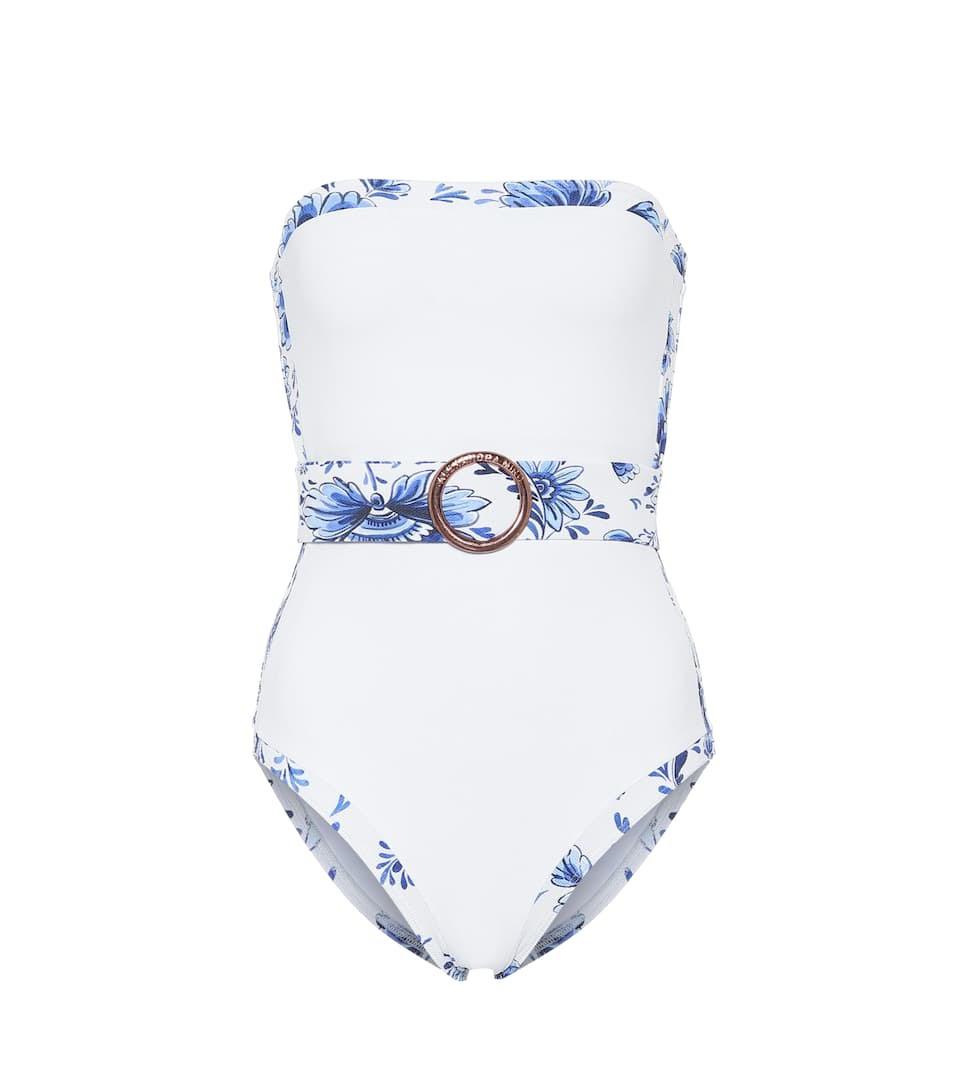 The retro style is perhaps the most important trend of this season. The emphasis is on the '50s, '60s and the beginning of the '70s. LemLem's swimsuit can be characterized as a '50s one-piece that features intricate patterns. The lines are vertical, a fact which flatters almost any type of silhouette, making it appear thinner. The back is open and the halter neckties can be adjusted according to the bust size. The smallest size available is XS and the largest is L.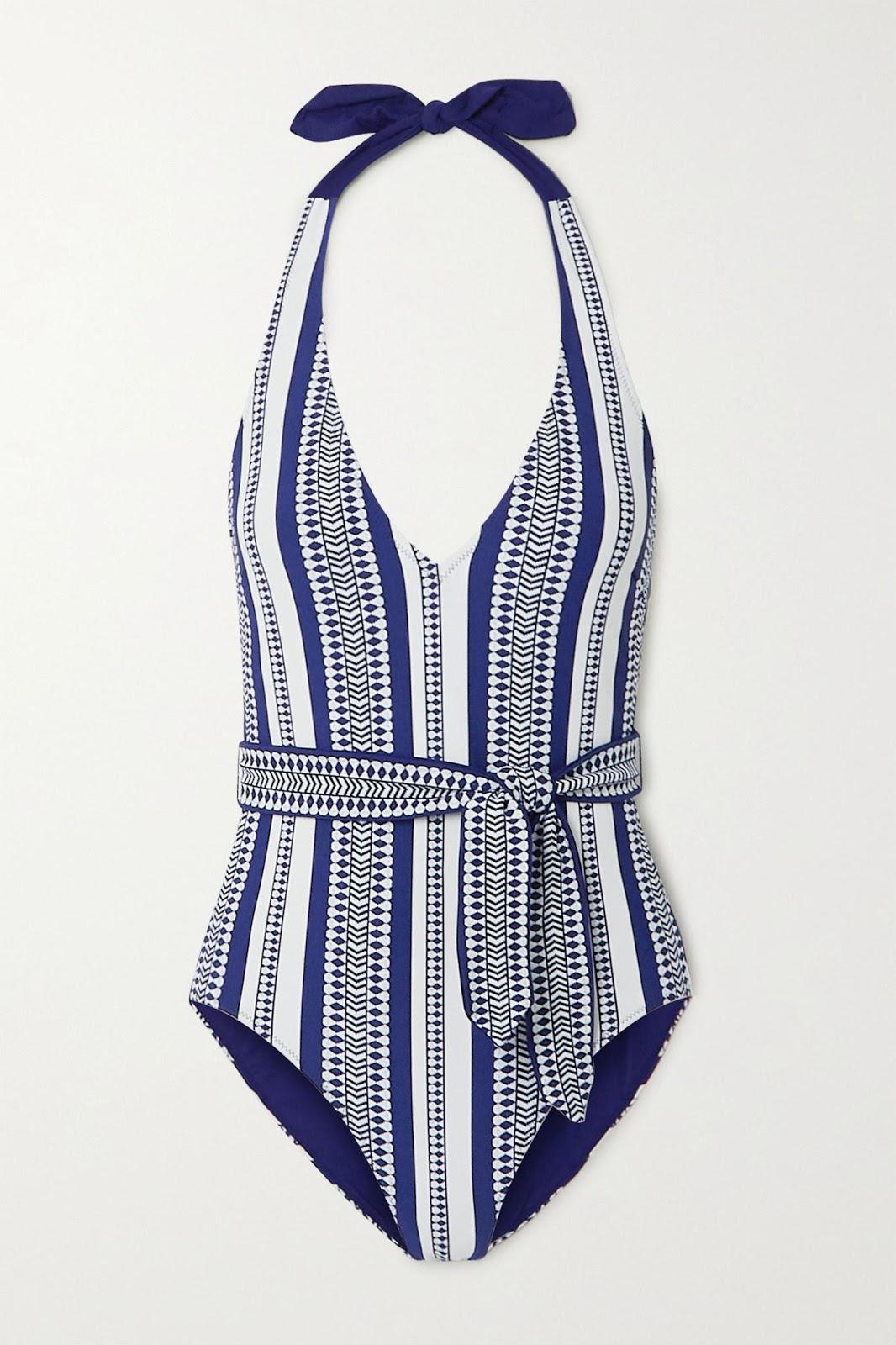 What makes Anemone's floral swimsuit one of the best swimsuits this year is its feminine design. Numerous white daisies are embroidered on the upper part. The background is green and the cut features an open back, a square neck and a high-cut leg. We love the overall look of this beachwear, but we vote against its one-size availability.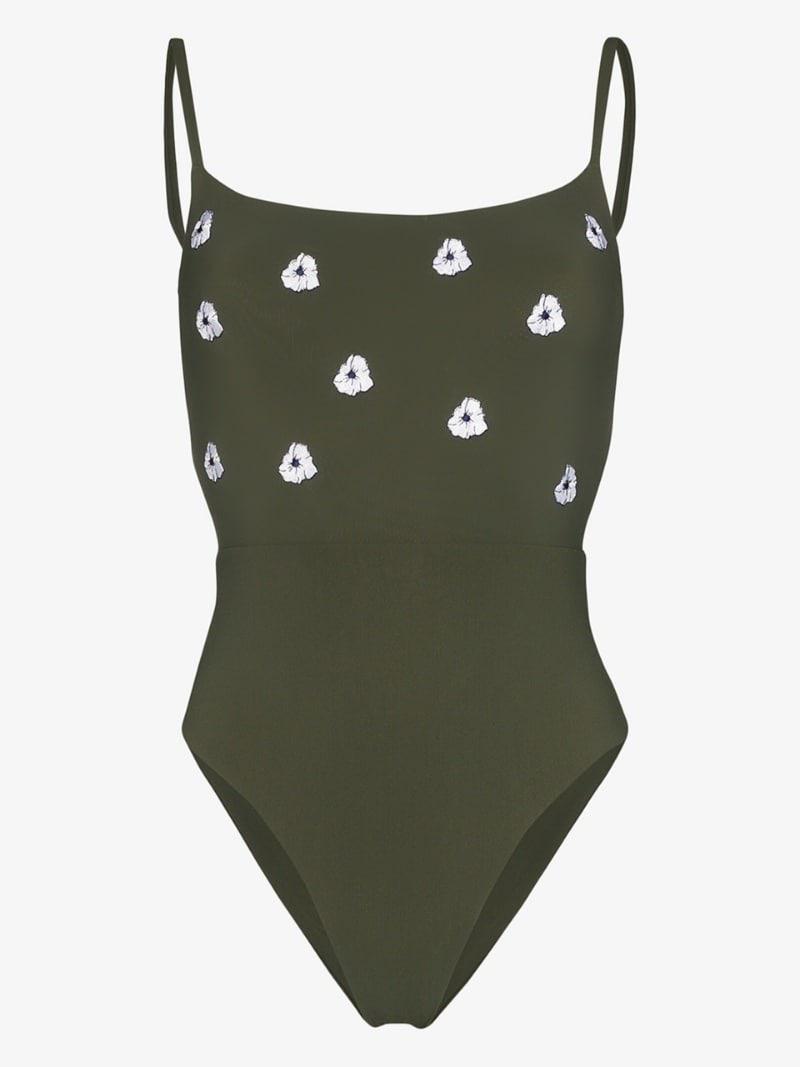 We can't take our eyes off this shimmering bikini set either. It comes in an inspired combination of colors, such as gold, pink, green, and blue. The geometrical pattern doesn't flatter all types of silhouettes, but we are happy to announce it comes in multiple sizes. The back tie makes the top adjustable, a fact which complements the sweetheart neckline. As for the bottoms, they provide full coverage due to their retro design.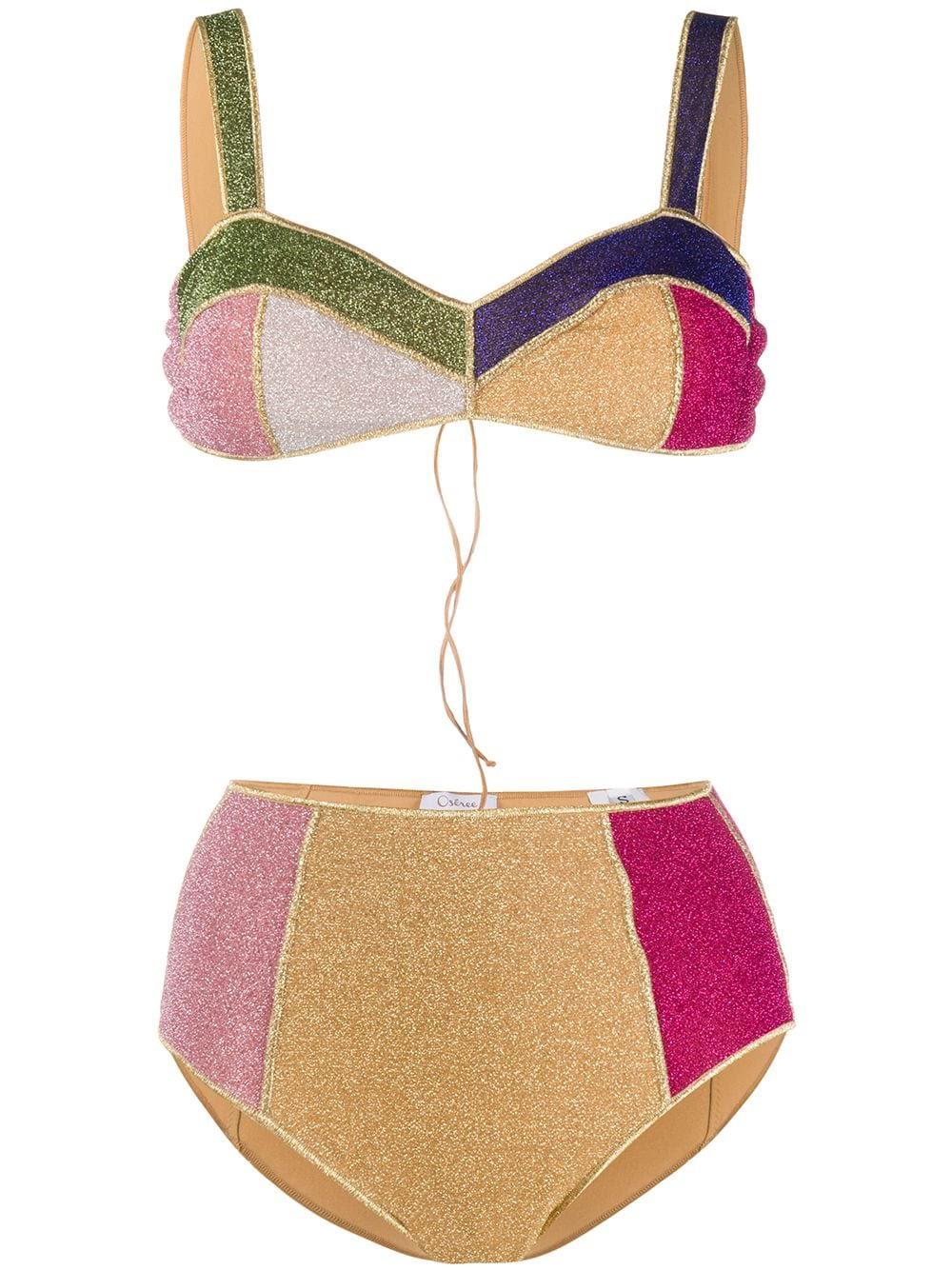 Summary
After browsing through 15 representative swimsuit types that are fashionable this year, we still cannot decide which one we love the most. The shimmering beachwear is definitely appealing, while the retro style can't be ignored either. Ultimately, we should pick the type of beachwear that flatters our bodies the most.